Invitation to IConGSM2022

Please also visit our conference project on nternational Conference on Geopolymer and Sustainable Materials (IConGSM) 2022

Invitation to Participate in the 1st International Conference on Geopolymer and Sustainable Materials (IConGSM 2022) on 23rd - 24th September 2022, at Ho Chi Minh City University Of Technology, Vietnam.

(Call for Abstracts: Abstract Submission)

Dear Scholars,

We are pleased to announce that the (CEGeoGTech), Universiti Malaysia Perlis (UniMAP) will be organizing following conference:
The International Conference on Geopolymer and Sustainable Materials (IConGSM) 2022.
Date : 23rd–24th September 2022
Venue : Ho Chi Minh City University Of Technology, Vietnam
Website : https://icogsm.com/
We cordially invite all academics and practitioners in the related field to join us in jointly conferences; 1st International Conference on Geopolymer and Sustainable Materials (IConGSM). ​This conference invites papers from various fields in both Geopolymer and Sustainable Material Engineering & Technology field. The primary goal of the conference is to provide the opportunities for academicians, professionals, practitioners and policy makers in the engineering and computing fields to share their thoughts and empirical works both to those involved in their field or those interested in the subject being researched. All submitted papers will be published in SCOPUS indexed journals. This conference organized in conjuction with 2nd Asia Geopolymer Symposium & 6th Malaysia-Indonesia Geopolymer Symposium.
Authors are invited to submit abstracts for oral and poster presentations.
CALL FOR PAPERS:
The conference will bring together leading researchers, engineers and scientists in the domain of interest from around the world. Topics of interest for submission include, but are not limited to:
1) Alkali Activated Materials
2) Biomaterials
3) Geopolymer
4) Building Materials
5) Bulk Crystal Growth
6) Green Technology
7) Bio-Concrete
8) Green Buildings
9) Structures and Materials
10) Advanced Materials for Buildings
11) Blast Resistance Structure
12) Composite Structures
13) Dynamics of Structures
14) Earthquake Engineering / Seismic Design
15) Fire Resistance Concrete
16) High Performance Concrete
17) Industrialized Building System
18) Maintenance and Repair
19) Non-Destructive Testing
20) Offshore Structures
21) Pre-stressed Concrete
22) Special Concrete
23) Recycle / reuse of C& D waste
24) Recycled Waste
25) Sustainable Concrete
26) Waste Management
27) Cement manufacturing technologies
28) Ceramic and porcelain production technologies
29) Glass manufacturing technologies
30) Refractory manufacturing technologies
31) Technologies for the production of electronic, biomedical, and environmental engineering materials
32) Characterization
33) Coatings and surface engineering
34) Composites and polymer materials
35) Computational Materials Science
36) New Functional Materials
37) Optical and Photonic Materials
38) Optoelectronics
39) Organic Polymer Materials
40) Semi-conductor and micro-electronic materials
41) Smart/Intelligent Materials/Intelligent Systems
42) Testing and Evaluation of Materials
43) Thin Films
44) Science and Computer
45) Management Technology
46) Others related topic

IMPORTANT DATES

PAPER SUBMISSION (FINAL)
​ 15 JULY 2022 extended to 31 July2022
NOTIFICATION OF ACCEPTANCE
​2 weeks after paper submitted
Full Paper Submission Deadline
15 AUGUST 2022
Conference Dates
23-24 SEPTEMBER 2022
Final Payment
​(Due date of submitting evidence of payment)
31 AUGUST 2022

FEES:
RM700 / article for locals OR USD200 for internationals
IMPORTANT LINKS FOR IConGSM 2022
Submission Form ---> http://icongsm.com/submission/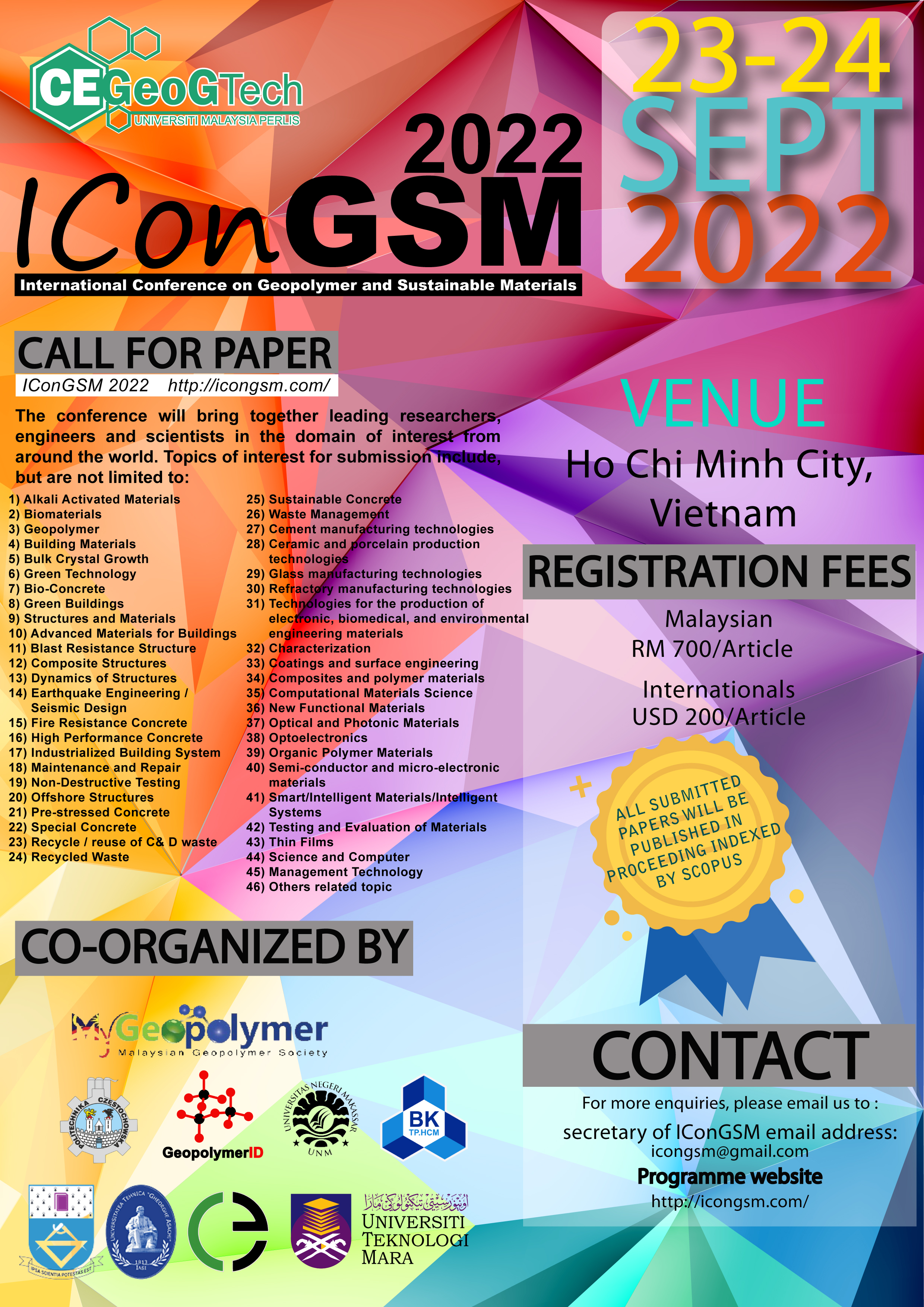 IConGSM secretariat email address
This email address is being protected from spambots. You need JavaScript enabled to view it.
Best regards,
IConGSM 2022 Secretariat.