Keynote Speaker 4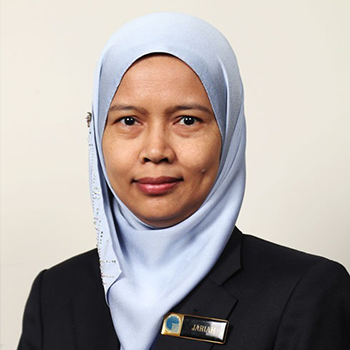 Assoc. Prof. Dr. Jariah Mohamad Juoi
Associate Professor
Faculty of Manufacturing Engineering 
Universiti Teknikal Melaka (UTeM)
---

Biography

Jariah Mohamad Juoi received her B. Eng. Hons. (Materials Engineering) and Master of Science (Materials Engineering) degrees from Universiti Sains Malaysia and hold a Ph. D (Engineering Materials) from University of Sheffield, United Kingdom researching immobilization of simulated radioactive waste in glass composite materials. Current research involved recycling waste materials and antimicrobial coating.  She carried out various national research grants aiming for materials sustainability, enhancing the closed-loop cycle, and provided training and consultation work in materials engineering and technology industries. She holds Malaysia Patent on Tiles made from waste glass and filed a patent on Eco-friendly Printing Ink from Waste Cooking Oil. She had received various awards including Gold Award in International Invention, Innovation &Technology Exhibition (ITEX), Gold and Platinum Special Award at British Invention Show. She is a registered member of the Board of Engineers Malaysia (BEM),) served as South Region Committee Member of Institute of Materials Malaysia (IMM (2018-2022) and Life Member of Malaysian Invention & Design Society (MINDS). She also serves as an Academic Editor for the Journal of Science and Technology of Nuclear Installations.
---
Title of the talk

Green Building Materials: Research and Development Initiatives in align with Malaysia
Green Technology Master Plan

Abstract
Malaysia Green Technology Master Plan (GTMP) is a framework to facilitate the mainstreaming of green technology in Malaysia and plays a vital role towards achieving the Sustainable Development Goals (SDGs).  The six key sectors focused in GTMP are energy, manufacturing, transport, building, waste and water. Focusing on the building sector, one of the main initiatives is green building materials. Green Building Materials can be characterised as materials that are environmentally friendly to manufacture and able to reduce energy consumption and environmentally impact during lifetime of its application in the building.  Some examples of green building materials are cement that incorporated recycled materials such as fly ash, interior building materials that utilizes less hazardous materials and/or less raw materials for production such as ceiling boards and paints that use less volatile organic compounds. The research and development of new green building materials in Malaysia is still in its infancy and the quality of innovation is still limited.  Thus, more initiatives in developing new green building materials is at utmost essential. Among the national target for green building materials is the amount of recycled content in the raw materials. In our work, new green building materials that are green innovative glass ceramic tiles, green printing ink and green concrete had shown good feasibility at lab scale development and integration. The patented R&D work is progressing towards the stage of technology development. The development of this new green building materials is contributing towards the growth in green building materials in align with the GTMP.